WPT Borgata Day 2: Miraculous Survival and Sick Bad Beats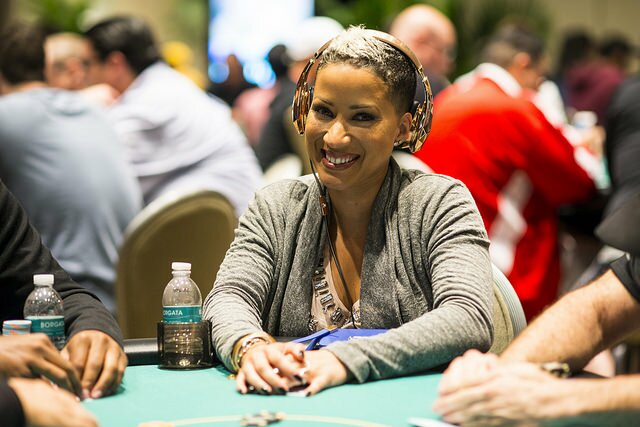 Only 150 players remain out of the 606 hopeful players that took their seats on Day 2 of the WPT Borgata Open. When the day began a lot of talented women were still in contention to be the first woman to win an WPT Main Event. In February this year Mette-Louise Christiansen won the WPT National Vejle in Denmark and in 2011 the Russian poker player Natalia Nikitina took down the WPT National Paris at the Aviation Club. But we have yet to see a woman winning an international WPT Main Event title. Will WPT Borgata Open be the event, where it's finally going to happen?
When the day kicked off a bunch of women were still in the field, including Darlene Lee, Jamie Kerstetter, Lily Kiletto, Allyn Jaffrey Shulman, Melissa Burr, Eboney Kenney, Loni Harwood, Kara Scott, Candace Collins, Cathy Dever, Cherish Andrews, Anna Khait and Amanda Musumeci – just to name a few. But like every day 2 this one was brutal, and just a handful of women survived to play Day 3, and it was not necessarily the players with the largest stacks.
Lily Kiletto started the day with a bunch of chips, 155,000 (193 bb), but was not able to get anything going:
Very tough day for me, laying down big hands and bluffing at the wrong time.. down to 40k #BorgataPokerOpen

— Lily Maylia Kiletto September 16, 2014
On her final hand she ran AQ into KK for at 60k pot, but failed to hit, and she was out of the tournament.
Allyn Jaffrey Shulman was even better off at the start of the day with 231,000 (289 bb) in chips; the 4th largest stack overall. But the day proved to be a disaster for Shulman:
Worst poker day I've ever had. Out of WPT. Feeling miserable.

— Allyn Shulman September 16, 2014
Fortunately Darlene Lee who was chip leader at the end of Day 1B continued to run well. She finished Day 2 in top 15 with a stack of 440k (88 bb). Team PartyPoker's Jamie Kerstetter had another fine day in the middle of the pack, and the Grindette was able to accumulate 279k (56 bb), average is 245k.
More surprising was the fact that Lana O'Brien survived the day in good shape. O'Brien started the day with only 7 big blinds, but finished above average with 278k (55 bb). How did it happen? At the start of the day O'Brien had tweeted that she was determined to run it up and she certainly did.
O'Brien's first double up came in a hand versus Allen Kessler, where O'Brien shoved her 7 big blind from early position. Kessler called on the button. O'Brien turned over


and Kessler showed


. The flop and turn did not help O'Brien but the river was the

, and O'Brien doubled up, while Kessler according to the
WPT blog
muttered "Typical for me". From there on O'Brien didn't look back and she kept building her stack throughout the day:
somehow spun 6k up to 278k. start tom at 2500/5k. #pinchme #partypoker

— Lana O'Brien () September 17, 2014
Maybe the very talented Eboney Kenney should think twice about quitting poker as she was able to survive Day 2 with a short stack and predict the outcome of the day too! Kenney, who started the day with 21,000 in chips, had promised poker journalist BJ Nemeth that she would end the night with 110k, and reach this goal on her final hand. And so she did:
My next career is a psychic. I bagged 114k as predicted , after having 80k on last level! Time for my giant check ! #Boom

— Ebony Kenney September 17, 2014
It will be interesting to see if Kenney can predict the outcome of Day 3 as well.
Besides Darlene Lee, Jamie Kerstetter, Lana O'Brien and Eboney Kenney Candace Collins and Sarah Tolagson also made it to Day 3. Candace Collins is in great shape as she was able to bag 312k (62 bb) at the end of the night. Sarah Tolagson will enter Day 3 with 118k (23 bb).
Good luck to the remaining ladies on Day 3.
Photo: Eboney Kenney, WPT Borgata Open.