Rachel Kranz: The Adventurous Poker Player (Part II)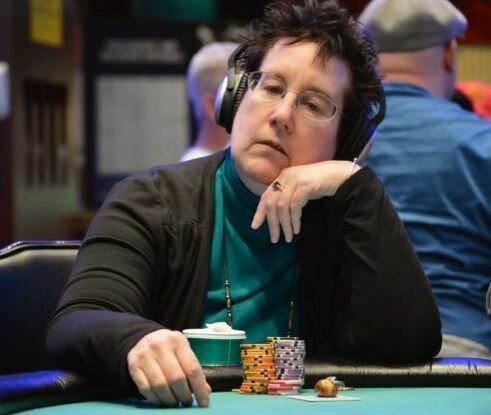 In the first part of our interview with novelist, ghostwriter, journalist, and poker player Rachel Kranz we discussed her work with mental coach Jared Tendler, the way women and particularly older women are perceived at the poker table, and her experience playing Chino Rheem heads-up in the 8-max event at Seminole Hard Rock Poker Showdown.
In the second part of our interview Kranz looks forward to the WSOP and gives some tips on how to prepare for the long grind. She shares a sweet memory from last year and reveals that she is working on a TV script about poker.
Winning the 8-max event must have given you a huge confidence boost leading up to the WSOP. Are you going to play max volume this summer?
"In all immodesty, I think my confidence has been growing steadily since last June, largely thanks to the work I did with Jared [Tendler], as well as because I've been getting good results. Taking 2nd in the $1,100 Venetian tournament last summer for $113k was a huge confidence boost, and getting to 45th in the WPT Borgata this past January helped a lot as well.  Winning the 8-max sort of reinforced that those events really weren't flukes.
I was always going to play max volume this summer, and I was always hoping to sell about 30-40% of my action. Now I think that's more likely to happen, and I would feel more comfortable playing even if it didn't!  But it's amazing going into the Series after a big win. I'm very lucky in the timing."
Which events are you particularly looking forward to? And where do you find most value?
"I think I'm looking forward to all the same ones that everybody is—the deeper-stacked bracelet events and the Main. Although I am opposed to Sheldon Adelson for many reasons—not just for poker!—I always really enjoy the Venetian events because the atmosphere is so much nicer there than the Rio.  But the lure of a bracelet is really strong. Obviously, there's a lot of value in the women's and senior's events for me.  But all the big-field, low buy-in events have a lot of value. I really can't wait to play them all!"
How do you prepare for the WSOP?
"I try to stick to the healthiest possible routine.  I bring food with me to eat on every break, and I buy meals from All-American Dave for dinner at the Rio. At the Wynn and Venetian, I have my favorite places for healthy dinners. I eat relatively healthy on days off.  I get decent sleep. I work out every morning before playing. Last year, I had weekly phone sessions with Jared, which we might repeat this year. I have another coach, and we might work out regular check-ins as well. I make sure to get two days off a week, and I try to do really satisfying things on those days.
Between now and the WSOP, I'll be reviewing my game plan, working on hand reading with my poker coach, and hopefully doing some work on getting in the zone with Jared.  This close to the WSOP, my goal is not to learn a lot of new stuff that I won't have time to assimilate, but rather to get as solid as possible about what I already know or almost-know.
In the ideal world, I'll meet with a friend who teaches yoga and review some breathing and yoga poses. I wish I had actually taken yoga classes this year, but that is something I could throw in during May if I can get disciplined enough to do it."
Even for a young player the long grind that the WSOP is can wear you out. How do you handle the long days at the table?
"I don't feel 'not young' in that way. I'm usually up late. I usually have more energy than just about everyone—not for physical exertion, but for endurance and mental activity. I might meditate on breaks.  I might do a couple of sets of squats, which are excellent for getting blood to the brain. I try to go outside on every break.  Music also helps—anything to de-stress and refocus.
As I've become a better player, I find myself completely drained on days off, because I'm using more brain power when I play, but I think that's typical of young players also—it's easier to play when you're not working hard at it! The drain comes on the day off, though—not while I'm playing.
You have been playing the WSOP for some years now. Can you share with us a sweet or bitter memory from past years?
"I've gone to at least some events since 2008, although I skipped 2009 completely, I think. I've played a full schedule for the last few years. My sweetest memory has to be taking 2nd and winning $113k.  That was another situation in which I was more or less invisible at the final table, even though I was a massive chip leader. Another woman player was there but busted at 10th, and then it was just me.  No one even spoke to me much … and then suddenly, I made a play—a very unusual play for me—against the guy to my right and won a huge pot. All of a sudden, the group of young guys at the other end of the table started whispering about it—you could see them figure out what had happened, one by one, as each one told the other and verified what had happened on each street. Then they all just stared at me, literally open-mouthed. They did not know how to put together what they had witnessed with what they had been thinking of me all those hours.
Then they asked me if I had a coach! So I didn't even get credit for my own play", Kranz says laughing. "But it was a very satisfying moment, and the ultimate 2nd place victory was very sweet. It felt like entering another realm as a player, to be able to win that much."
Besides playing poker you're also a novelist, playwright, and journalist. Do you consider yourself more of a poker player now?
"Definitely I'm more of a writer than a player. I earn my living as a ghostwriter, and while I would love to earn my living playing poker, it's not very realistic to earn a living as a live tournament player, although some people manage. Nor is it realistic for an American living in New York to make a living as an online tournament player, although some people manage that, too!  Maybe if situations change with either investors or legalizing online poker or some other miracles I'll end up being able to earn a good living at the table!
But no matter how I earn my living, being a novelist and playwright will always be the real heart of my work, and, if I can manage it, directing theater also, which I used to do but haven't been able to do for a while."
And the final question: When will we see you write a novel about poker? There must be some great stories out there longing to be told?
"Definitely! I'm finishing a big novel about slavery and the US economy, the second book in a trilogy—the third will be a novel about women and art.  My plan was to do a poker novel, which I've already sort of started, between those two big books. A writing partner and I have actually started turning it into a TV script, so that might be next on the horizon."
With this promising prospect we thank Rachel Kranz for taking the time to talk with us and wish her the very best of luck at the WSOP this summer.
You can follow Rachel Kranz at and on her blog, www.adventuresinpoker.com, which will be up and running in early May.
Photo: Rachel Kranz, Foxwoods Poker.