On Poker and Acting: Fatima Moreira de Melo Appears in New Poker TV Series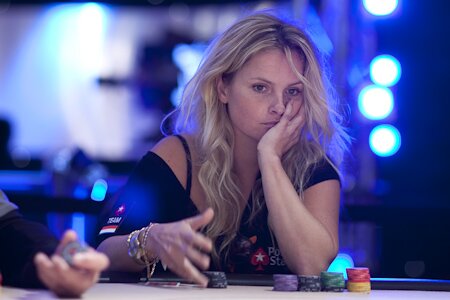 We are used to see PokerStars SportsStar and former field hockey player Fatima Moreira de Melo at the tables all around the world, but she has actually worked as a presenter on TV for both local and national TV stations in The Netherlands. And she also has a career as a singer. With all those experiences it makes perfect sense that she is soon to appear as an actress in a new Dutch TV series about poker, called
Bluff
.
On PokerStars Blog Fatima Moreira de Melo writes about the experience:
"I'm on the show playing a poker player who the main character is having trouble beating — kind of his nemesis. PokerStars is involved and there probably will be cameos from some other Team Pros like the de Meulder brothers, Lex Veldhuis, and maybe Marcel Luske.
We've been shooting in Monte Carlo as well at the EPT Grand Final. We're using the TV table and shoot scenes there after play concludes each day. It's been a lot of fun so far, and cool also to show the actors something of the real poker world."
Besides acting herself de Melo has also worked on the project as a consultant. She's been teaching the actors how to play poker and how to act at the poker table.  She's been discussing tells, bluffing and different poker hands. The most difficult part of her job has been – together with the writers – to find the perfect balance between a realistic poker setting and accessibility for the viewers. Fatima Moreira de Melo explains:
"If you want to create drama, the viewer has to understand what is happening and be able to identify with characters and their decisions. Since poker isn't necessarily understood that well by a lot of the audience, you have to simplify it. But you can't simplify it to the point of making it violate ideas of what is probable or realistic. For one thing, the poker players who watch will be very critical and analyze details and will be ready to criticize anything that doesn't make sense (…)
The poker will have to be simplified, obviously, but credibly simplified. Hands need to make sense and be able to be followed and understood, but they have to be probable, too, and ideally will present poker as a thinking game that requires real skill to play well."
Bluff  will air on RTL 5 in September. The show is in Dutch, but if it becomes a huge success, we might be able to watch it outside The Netherlands some day.
You can read Fatima's whole blog here.
Photo: PokerStars