Rachel Kranz, The Adventurous Poker Player, Has Passed Away at Age 62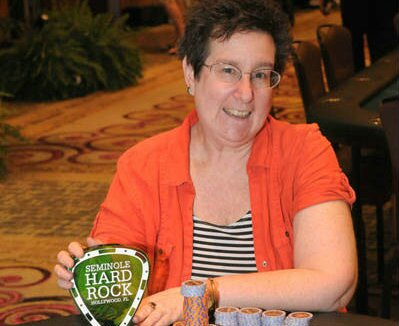 Rachel Kranz (1955-2017) was a bit of a Renaissance woman. She was a playwright, a poker player, a novelist, a ghostwriter and a theatre director. In the early hours of Monday morning, she passed away after battling ovarian cancer for the last few months. What a loss for the poker world – and for all the other worlds Rachel was a part of.
For the last couple of years Rachel was working on a sequel to her novel "Leaps of Faith" (2008) and on a TV pilot about poker. In a two-part interview I did with Rachel in 2015, she said: "I'm finishing a big novel about slavery and the US economy, the second book in a trilogy—the third will be a novel about women and art. My plan was to do a poker novel, which I've already sort of started, between those two big books. A writing partner and I have actually started turning it into a TV script, so that might be next on the horizon."
Unfortunately Rachel was not granted the time to finish her two projects, and we can only hope that they were so close to completion, that they can reach an audience in some shape or form.
Rachel was an avid poker player and she began playing tournament poker in 2008. She was ambitious and loved to discuss poker strategy and hands with fellow poker players. She worked with mental coach Jared Tendler, and her hard work payed off in 2014 when she finished runner-up in a Deep Stack Extravaganza event for $113,073. The following year she won an 8-max event a Seminole Hard Rock Poker Showdown for 44,863, beating Chimo Rheem heads-up.
Rachel was deeply engaged in politics. As her friend Ernie Barbarash said on Facebook: "She embodied the idea that everything was political and that we all had the responsibility to make the world a better place." She was not afraid to speak her mind, which also characterized her presence at the poker tables. She would not tolerate bad behavior, and she was aware that her age, gender, and aggressive playing style triggered something in some men: "I've faced enormous hostility for being a woman, and especially an older woman. Ridiculous stuff—like, I'll ask someone to put his big chips in front, or I'll ask the dealer to ask him, and three guys will start saying, "Why are you picking on him?" "Any time you want to know how much he has, just ask him!" "Leave the poor guy alone!" etc."
In this context it was no surprise that Rachel chose to speak up (where others were silent), when Dr. Jaclynn Moskow accused Nolan Dalla for sexual harassment in connection with the poker show "Poker Night in America". And this was not an easy task for Rachel considering she was a personal friend of Dalla! But after thinking about it for some time, Rachel got in touch with me and published her blog post on sexual harassment on our website. Her insightful and personal thoughts on the subject of misogyni should be compulsory reading for all poker players.
On a personal note: I never had the opportunity to meet Rachel in person. We emailed and texted a lot over the years, and we planned to meet at my place in Copenhagen this year. She spent some time in Copenhagen in college and "adored it". Now this visit will never take place – and I feel so sad, but at the same time so very grateful for all that Rachel gave to me – and to the poker community – and to the world at large.
You can read my two-part interview with Rachel here and here, and her post on sexual harassment right here.